Insurance for high value assets: Safeguarding your Investments: When it comes to safeguarding your high-value assets, such as your home, automobile, or commercial property, there's no room for compromise. These valuable investments deserve comprehensive insurance coverage that protects them against unforeseen risks and provides you with peace of mind. AK Insurance, a trusted name in Brampton, is here to offer expert guidance and tailored insurance solutions to ensure your investments remain secure. With our unparalleled expertise and commitment to customer satisfaction, we are the perfect partner for all your insurance needs. Contact AK Insurance today for the best consultancy in Brampton and experience the difference.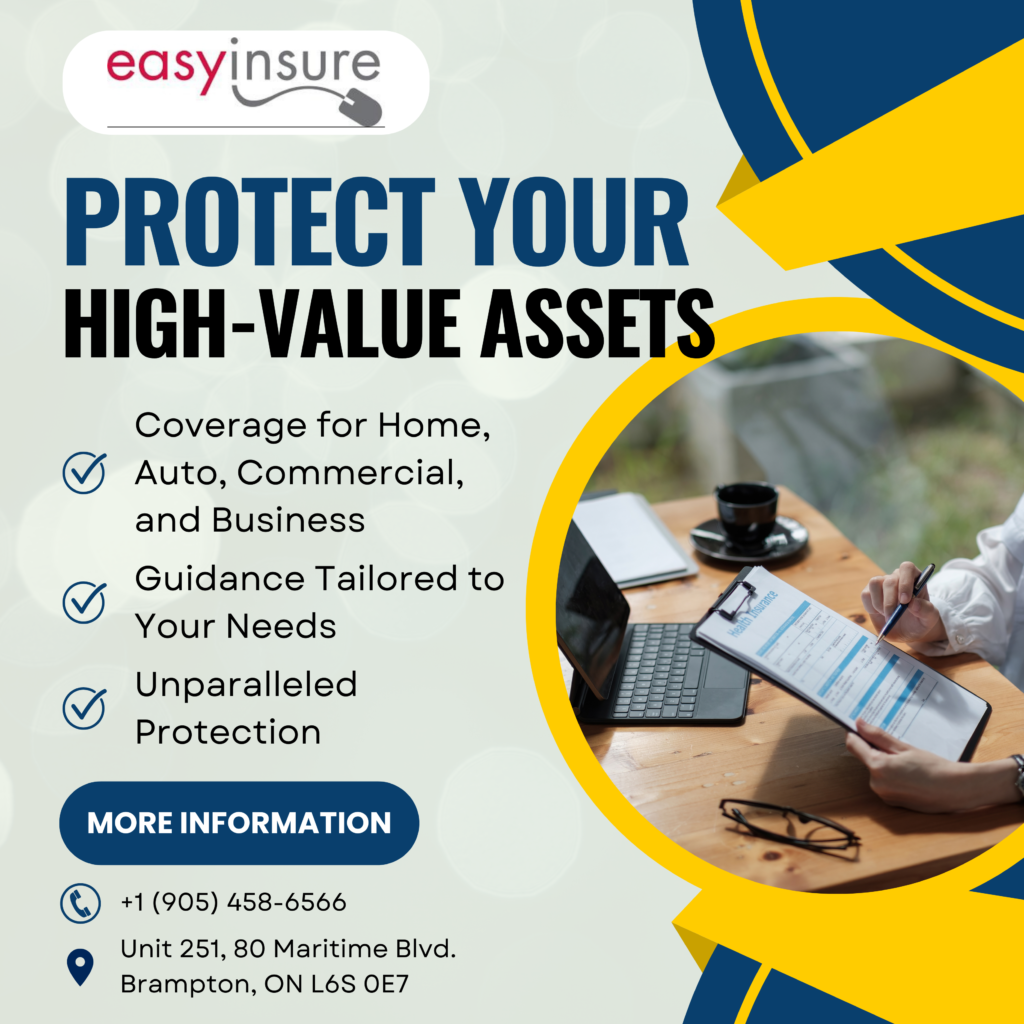 Understanding the Importance of Insurance for High-Value Assets
Investing in insurance for your high-value assets is not just an option; it's a necessity. Life is full of uncertainties, and it's during those unexpected events when we least expect them that incidents like theft, accidents, or natural disasters can occur. Without adequate insurance coverage, these incidents can lead to substantial financial losses and emotional distress. Insurance acts as a safety net, allowing you to protect your investments from potential risks and recover swiftly in the face of adversity.
For More Information: Life insurance in Brampton
Tailored Solutions for High-Value Assets
At AK Insurance, we understand that each high-value asset is unique and requires specialized protection. Our experienced insurance professionals in Brampton are well-versed in tailoring insurance solutions that meet your specific needs. We take the time to understand the intricacies of your assets, evaluate the potential risks involved, and design comprehensive coverage plans that address your concerns effectively. With AK Insurance, you can rest assured that your investments are safeguarded in the best possible way.
Comprehensive Coverage Options: Insurance Brampton
AK Insurance offers a wide range of coverage options to protect your high-value assets comprehensively. Here are some key insurance policies we provide:
Home Insurance: Your home is not just a physical structure; it's your sanctuary. With AK Insurance, you can enjoy the comfort of knowing that we protect your property in Brampton against risks such as fire, theft, vandalism, and natural disasters. Our home insurance policies ensure the security of your most valuable asset.
Auto Insurance: Your vehicle is more than just a means of transportation; it's an essential part of your life. Our auto insurance policies provide comprehensive coverage for your cars, motorcycles, or other vehicles, protecting you against accidents, theft, and damages. With AK Insurance, you can hit the road with confidence, knowing you have the right coverage.
Commercial Insurance: If you own a business, protecting your assets and operations is crucial. Our commercial insurance solutions cater to various industries and provide coverage for property damage, liability claims, business interruption, and more. We understand the unique risks faced by businesses in Brampton and can customize insurance plans that suit your specific requirements.
Get in Touch with Us
Insurance Guidance in Brampton
AK Insurance is your go-to consultancy service for insurance guidance in Brampton. Our team of knowledgeable professionals understands the local market dynamics and regulations, allowing us to provide tailored advice that aligns with your needs. Whether you are a homeowner, vehicle owner, or business owner, rest assured that we are here to guide you through the insurance process. Our aim is to help you understand your options and find the best coverage for your high-value assets.
Contact AK Insurance
Your high-value assets deserve the best protection available, and AK Insurance is committed to delivering just that. With our expertise, personalized service, and extensive coverage options, we are the insurance partner you can trust. Contact AK Insurance today for the best consultancy in Brampton and secure your investments with confidence. Don't wait until it's too late; instead, let us be your shield against uncertainty.
We hope that you find this article, "Insurance for high value assets: Safeguarding your Investments" informative and insightful. Understanding the different types of life insurance policies is crucial when it comes to protecting your family's financial future. At AK Insurance, we are committed to providing expert consultancy and tailored solutions to meet your unique needs. Contact us today for professional insurance consultancy and let us help you secure the right life insurance policy for you and your loved ones. Your peace of mind is our top priority.